Today I made ribs on the BGE. I used basics from my Take 4 setup and tried to add more flavor to them. I think I accomplished that.
The rub:
1/2 C turbinado sugar
Just under 1/2 C kosher salt
1/2 Tbsp paprika
1/2 Tbsp hot hungarian paprika
1 Tbsp onion powder
1 Tbsp freshly ground black pepper
1 Tbsp garlic powder
1 Tbsp ground cumin
1 Tbsp chile powder
1 Tbsp celery salt
1/2 Tbsp ancho chile powder
1/2 Tbsp chile powder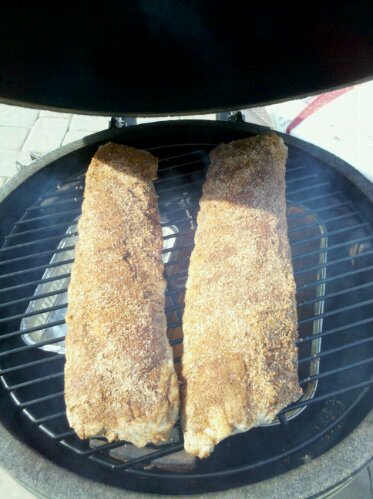 The smoke has started.
Another shot at the beginning.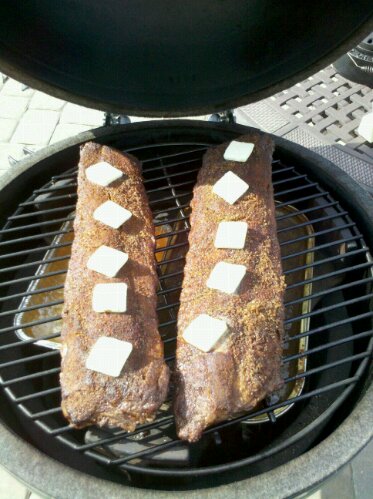 At the start of hour 2, I added some butter. Earlier than I did during the last time.
At the end of hour 3.
I wrapped them in foil for hour 4 and added tangerine juice. That was the only citrus I had in the house.
We were getting hungry so I threw on some quesadillas.
We added broccoli and potatoes to the meal.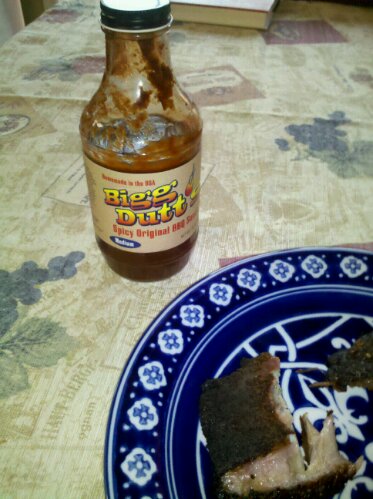 Not everyone wanted sauce this time so I added some Big Dutts on my plate.
The finished product. Yum!
Overall these were my best ribs so far. We agreed that they still need something to kick them up a notch. I'm thinking a vinegar sauce. We'll try that next time.