Now that I've discovered the secret of the Big Green Egg (low and slow), I decided to try ribs again. I've made ribs before and they usually turn out pretty good, kind of dry-ish and once overly salted. I adapted directions from The Hog Blog which has recently become one of my favorite BGE/BBQ blogs. Mister Bob knows his BBQ! Okay, here we go.
Here they are right out of the packaging.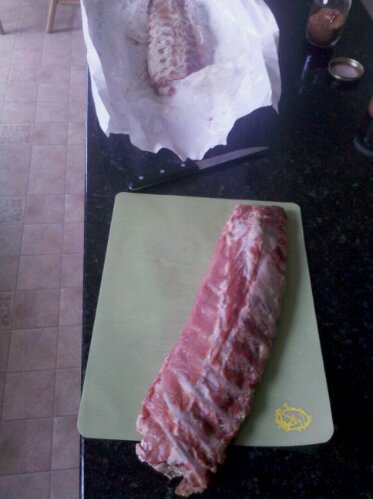 After the spice rub was applied. Used a mixture of my pork butt rub (to be posted soon) and the super salty rub from the last rib time.

After 1 hour on the BGE. Cherry wood chips with the plate setter and a water bath to keep them moist. Temperature at 275 degrees F.

After 2 hours I added some unsalted butter. Why not!

After 3 hours.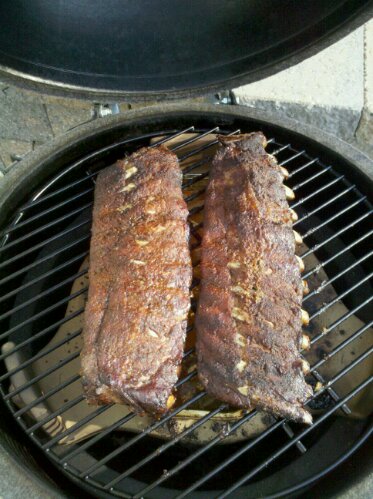 After 4 hours. For hours 3 to 4, they were wrapped in foil and I added some fresh squeezed orange juice (no apple juice in the house) to each package.

45 minutes later, I added a light coating of Moyers BBQ Sauce for the last 15 minutes. Here is the result.

So delicious! Total cook time – 5 hours.


We agreed that the cooking was great but the flavor could have used a kick. I was focused on the cooking method this time and it really worked out (thanks Mister Bob). Next time I will combine that with some additional flavor.