As a side dish to tonight's dinner we made a simple grilled beat and feta salad. Here's how we did it.
Ingredients
1 bunch of beats
3 sprigs of fresh rosemary
~4 ounces of Feta
olive oil
salt and pepper to taste
Clean the beats and slice them into 1/4 inch rounds. Put them on a piece of foil for grilling. Drizzle them with olive oil and sprinkle some salt and pepper on them. Take the rosemary sprigs and place them randomly throughout. Preheat the grill to 375 degrees Fahrenheit. Grill them for 20 minutes turning them occasionally. Once finished, place them in a bowl and crumble the feta on top. Stir and serve.
It turned out delicious and I'm very happy about supporting local businesses. The beats came from Bauder Farms via the Skippack Farmers Market and the feta came from the St. Sophia Grecian Festival. The rosemary was extra local. It came from a pot on my patio. 🙂 I was also drinking local beer while grilling. Mountain Lager by Appalachian Brewing Company.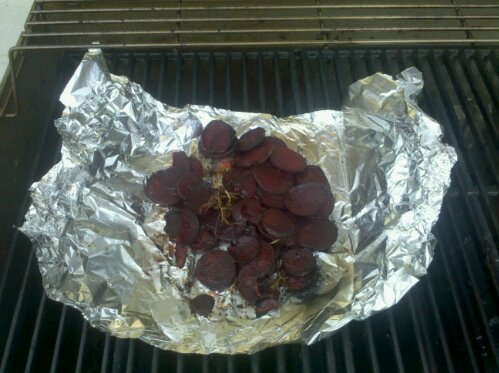 Ready to take off the grill.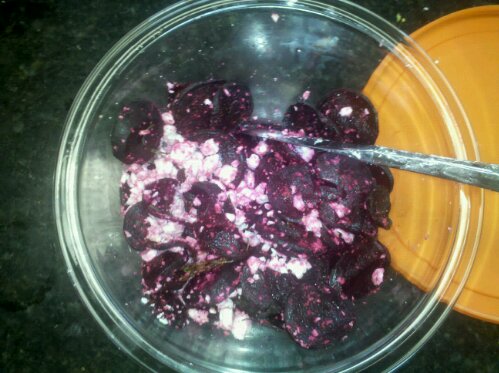 After the feta was mixed in.